There are so many uses for baking soda! Best of all? It's cheap! Sodium bicarbonate, the "official" term for baking soda, helps regulate pH. If baking soda mixes with either an acid or an alkaline substance it has a neutralizing effect on it.
Moreover, it's perfect for neutralizing acidic odors and maintaining a neutral pH. This is perfect for doing things such as boosting your laundry detergent's power. It also has a gentle abrasive ability to help scrub. Conclusively, the uses for baking soda are many such as deodorizes, neutralizes.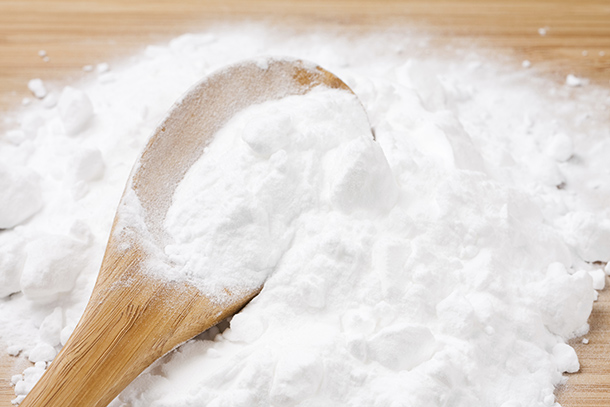 Furthermore, every woman spends a lot of money on her appearance to cosmetic products. This products are designed to help keep them look and feel good. But, the problem with these products is that they are often packed with questionable ingredients. Besides, they are dangerous chemicals that do more harm than good.
Fortunately, baking soda is undoubtedly one of the most versatile natural products. Additionally, it offers plenty of remarkable health, domestic and beauty uses. Here Top Fantastic Health, Beauty and also Home Uses.
Beauty and Health Uses
1. Natural Deodorant
If you want to avoid the chemicals in many deodorants and antiperspirants, try a pinch of baking soda mixed with water instead. This simple paste makes an effective and simple natural deodorant. You can also simply brush some dry baking soda under your arms.
2. Soothe Your Feet
Dissolve 3 tablespoons of baking soda in a tub of warm water and soak feet. Gently scrub, rinse and dry.
3. Teeth Whitener
Due to it's abrasive texture, it effectively removes stains from the teeth. This makes your teeth whiter! Simply add a pinch of baking soda to your soaked toothbrush and brush as you would do with normal toothpaste.
4. Freshen Your Mouth
Put one teaspoon in half a glass of water, swish, spit and rinse. This does not only cover odors but also neutralize them.
5. Baking Soda as Skin Softener
Add 1/2 cup of baking soda to your bath to neutralize acids on the skin. It also help wash away oil and perspiration. Besides, it makes your skin feel very soft and smooth. Apply on rough skin areas such as the elbows and knees.
6. Gently exfoliate
Gently get rid of dead skin. Just mix 3 parts of baking soda to 1 part water. Rub gently in a circular motion, rinse clean and dry. Additionally, it also helps you remove stretch marks easily.
7. Facial scrub
Again, combine baking soda and water to create a paste that you can use as a scrub. This helps to fight problems such as acne and other skin conditions.
8. Relieves insect stings and bites
For insect bites such as bee stings, bed bugs, make a paste out of baking soda and water. Apply as a salve onto affected skin. Moreover, to ease the itch, shake some baking soda into your hand and rub it into damp skin after bath or shower.
9. Improves the look of your hair
Sprinkle a small amount of soda into your palm along with your favorite shampoo. Shampoo as usual and rinse thoroughly. It helps remove the residue that styling products leave behind. Due to this, your hair becomes clean. Additionally, it also makes your hair look shinier. But also keep in mind how this might affect the pH of your scalp.
10. Serves as an Antacid
Baking soda is a safe and effective antacid. It relieves issues such as heartburn, sour stomach and/or acid indigestion. Make your own an antacid by mixing ½ teaspoon of bicarb with 50 ml (1/4 pint) of water.
Home Uses for Baking Soda
11. Clean hairbrushes and comb
Baking soda is great to help naturally remove oil build up and residue such as on combs and brushes. Simply soak in a solution of water and baking soda (about 1 tsp of baking soda to a cup of water). Rinse and dry thoroughly.
12. Removes Stubborn Stains
Stains have a way of leaving their mark such as from a leftover food. To freshen your pans and bowls, wipe with a clean sponge sprinkled with bicarbonate. You can also remove extra-stubborn stains by soaking in a solution of four tablespoons of soda and a quarter of warm water.
13. Cleans Furniture and Floors
Add some soda to a damp sponge and use it to clean any stains from the furniture. Wipe it off with a clean cloth. Furthermore, add ½ cup of soda to a bucket of warm water. Use it to clean the floors and eliminate grime and dirt.
14. Wash dirty fruits and vegetables
Soak fruits and veggies in a solution of water and bicarbonate to eliminate the dirt and residue off. You can also put some bicarb on a damp sponge, scrub your produce and rinse.
15. Refresh a foul-smelling fridge
Never worry that last night's tilapia will leave your fridge smelling for months to come. Place an open box in the back of your refrigerator to help neutralize odors. But be sure to change the box every couple of months.
16. Easy DIY soft scrub
How easy? Sprinkle some bicarbonate on things such as tubs, sinks or tiles. Wipe with a clean damp washcloth. Rinse and dry. You can also make a paste by mixing water and baking soda before hand.
17. Freshen Sponges
Soak stale-smelling sponges in a strong soda solution to get rid of the mess (4 tablespoons of soda dissolved in 1 quart of warm water).
18. Clean the Microwave
Sodium carbonate on a clean damp sponge cleans gently inside and outside the microwave and never leaves a harsh chemical smell. Rinse well with water.
19. Polish Silver Flatware
Use a baking soda paste made with 3 parts baking soda to 1 part water. Rub onto the silver with a clean cloth or sponge. Rinse thoroughly and dry for shining.
20. Soak Cloth Diapers
Dissolve 1/2 cup of soda into 2 quarts of warm water and soak diaper thoroughly before going through the wash for a better clean.
21. Keep Ants Out
Mix up equal parts of soda and salt together. Then, sprinkle the mixture wherever you see the ants coming in.
22. Carpet Deodorizer
Sprinkle sodium bicarb on your carpet and let sit overnight. Sweep up what you can and then use a vacuum to suck up the rest.
23. Deodorize Drains
To deodorize your sink and tub drains, and keep lingering odors from resurfacing, pour 1/2 cup of soda down the drain while running warm tap water. This will neutralize both acid and basic odors for a fresh drain.
24. Deodorize Garbage Cans
Simply sprinkle some sodium bicarb on the bottom of your trash cans to help keep bad smells away.
There you go! 24 useful uses for baking soda. What's your favorite use? Let us know in the comments section below.