After a long day, there's sometimes nothing better than a relaxing bath. You don't have to go to an expensive spa to relax and achieve momentary bliss. You can have the same luxurious and relaxing bath experience in your own home. This will be on your own terms, without spending a dime or going somewhere public to get it.
A hot relaxing bath loosens tight muscles and also relieves pain and aches. It also promotes blood circulation. It also washes off the worries and stresses of the day.
But it's important to create the right atmosphere. If your bath is dirty, or if your bathroom has harsh lighting – as many bathrooms do – you won't enjoy the experience. You might find it hard to switch off. There are ways to make the experience even more pleasurable. This can be with just a few little additions to your routine.
How to Give Yourself a Relaxing Bath at Home
Follow our tips below to have a relaxing bath. Create an environment where you can really let go and forget about stress.
1. Clean your tub
Before you hop in the tub, there are a few things you should do beforehand. They will optimize your experience. Give your bathtub a deep cleaning. This will help you have a real relaxing bath. Because you won't feel so relaxed if you see some weird gunk floating around in your bathwater while you're trying to unwind.
A quick scrub with some citrus and salt should freshen up your tub. But if it's been awhile since its last deep clean, most natural or store-bought cleaners might not be enough. Oven cleaner can make your old ceramic tub look brand new.
The tub is the most important thing to clean. But it's not a bad idea to clean your entire bathroom. After all, you're trying to create a relaxing environment, and that's much easier to do if everything is spick and span.
2. Scented sensations
You can take actual flowers into the tub, and let them lazily float around you. You will feel their smell and pretty appearance. Better yet, you could also purchase fake floating flowers that have an amazing aroma. There's even no guilt for cutting fresh flowers.
Don't also forget to choose a scented bath oil. Floral scents such as lavender, jasmine, iris and rose. They are all associated with relaxation. They can also help to ease you into a relaxing state quicker. Add oils to the tub when the bath is halfway full. This will help them disperse evenly throughout the water.
3. Dim the lights
Low lights are perfect for telling your mind and body that it's time to wind down and relax. Unfortunately, not every bathroom comes with a dimmer. So when it comes to blocking out the extra aggressive light, there are a few tricks.
You can close the shower curtain. It certainly keeps a lot of the light out. This gives you a nice sense of enclosure and safety. Sometimes you can light a candle instead and turn off the lights. This will make your relaxing bath experience and nice one.
4. Bath temperature
A warm bath is best for relaxing the body. Ideal water temperature for a warm bath is 92 degrees Fahrenheit. Be sure to use your wrist, not your hand to test the water. Because your wrist is a better gauge of how the water will feel once your entire body is submerged.
5. Scrub your cares away

There are few things as delightful to the senses as home-made sugar scrubs. Both for the smell and the softness it will bring to your skin, a scrub is a must-have for the perfect bath experience. As you unwind from the cares of the day, you can buff away dry patches and leave behind supple skin.
6. Quiet relaxation techniques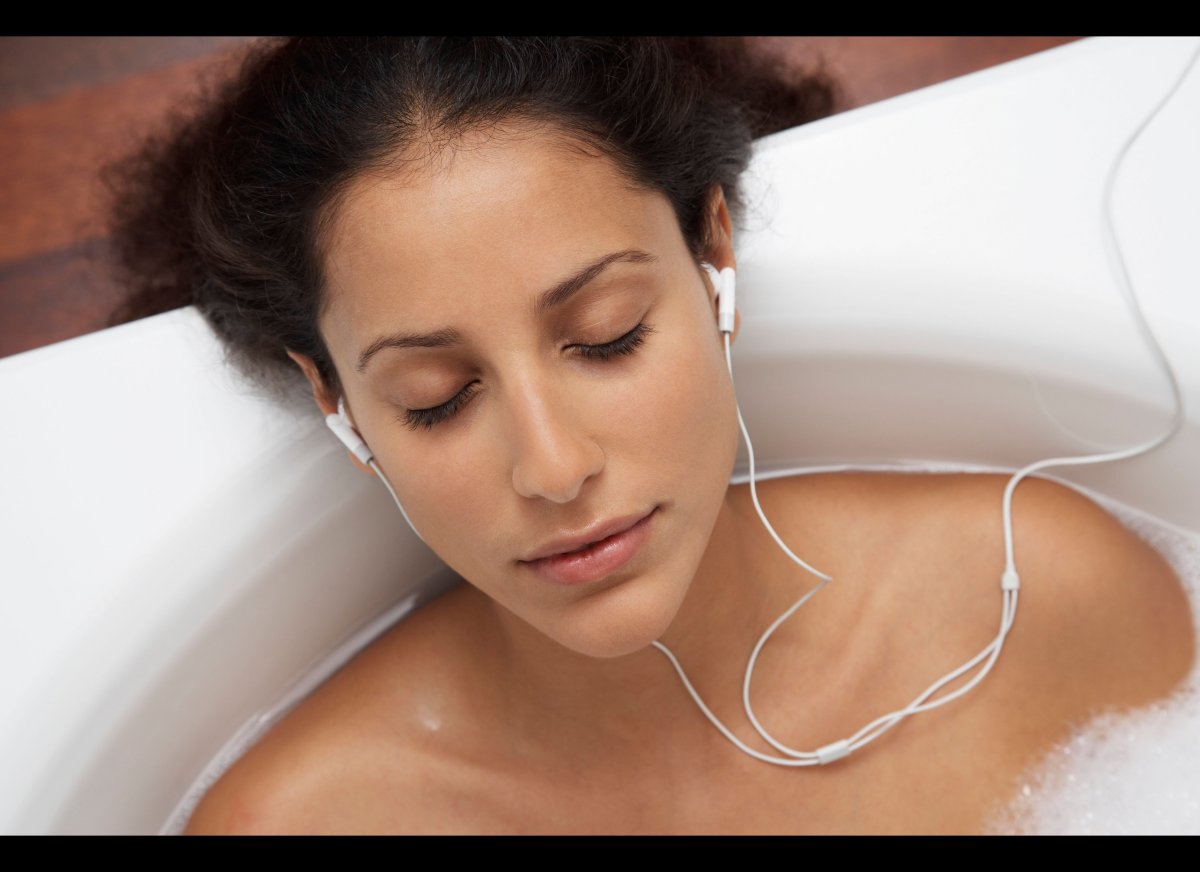 As you lie back in the water with your neck reclining comfortably on a bath pillow, close your eyes. Take a slow, deep breath and focus on how your chest rises and falls. Notice how your stomach expands with each breath. Hold your breath for a few seconds, and then exhale slowly. Place cool cucumber slices or a cool compress over your closed eyes to give them a soothing touch as well.
Other things to try for peace of mind include listening to a classical music or even a guided meditation.
7. Take your time
The most important thing to relax in the bath is, I think, to take your time. This is a special moment, one that can't be rushed. Take a relaxing bath an hour or so before bedtime so your body can absorb the heat and relax. This is to avoid interruptions. Interruptions are only going to stress you out even more. Make sure everyone in the family knows that this is your special time. Close the door. Start your music. Read your book. You deserve it.
What you can do after a relaxing bath
Your skin needs time to relax after a long day, just like the rest of your body and your mind do. Caressing your skin with the feel of a soft, moisturizing lotion (coconut oil works great!). Rub it gently into problem skin areas to lock in much needed hydration. Follow up with a spray of refreshing rosewater or witch hazel to naturally tone the skin.
While your skin is relaxed and full of moisture, it's a great time to do the following things:
Give yourself a mini pedicure
After you've soaked your feet in the bath, you can remove and dead skin from your heels with a pumice stone, and apply a scrub and moisturiser
Apply a face mask
This can also be done in the bath – the warm water and steam will help to open your pores up while the mask is on. If you want to keep your bath separate from your face care routine, apply a mask afterwards when the pores on your face are more open than usual
Shave your legs
You can do this at the end of the bath, or straight after you get out if you don't like the idea of hair in the water.